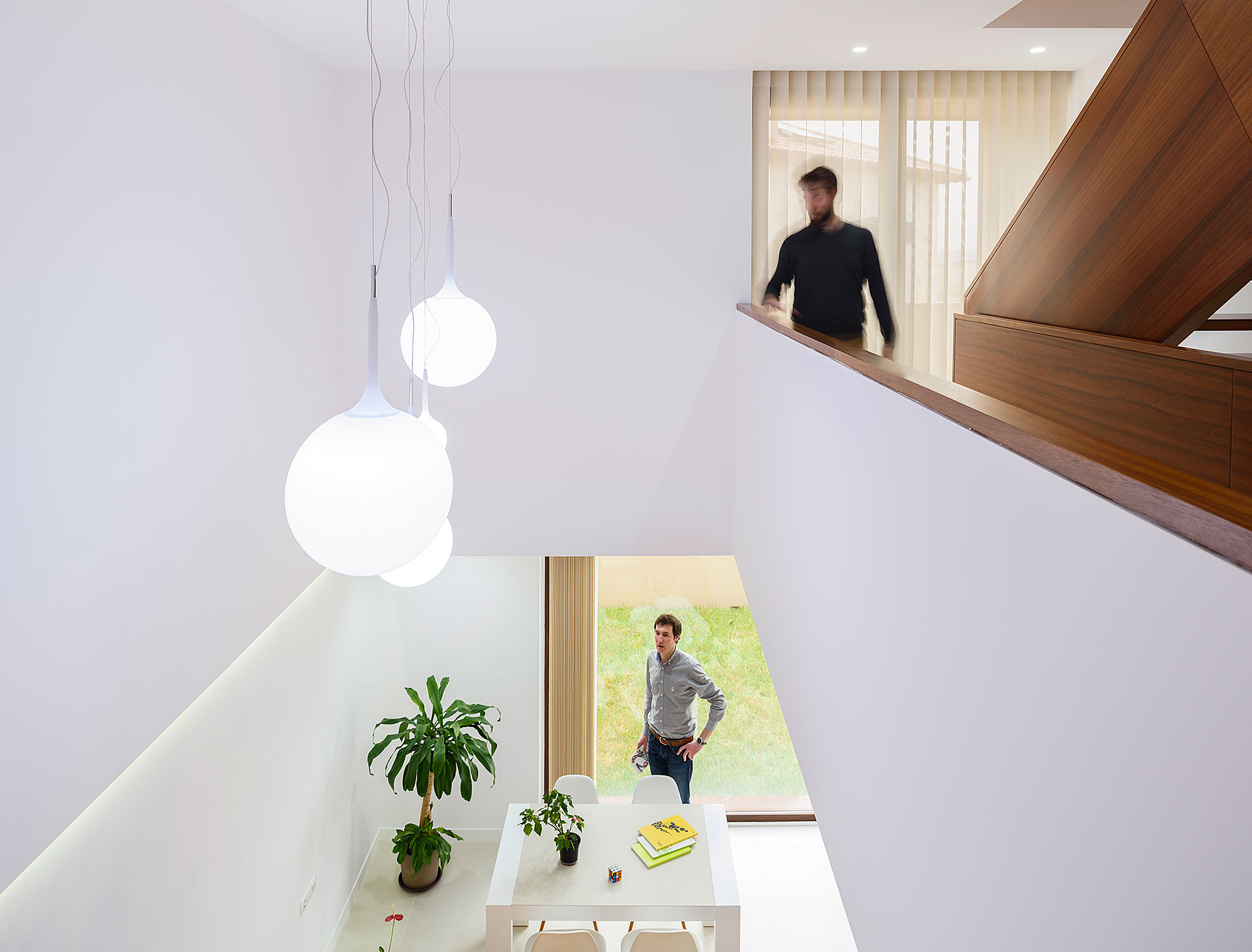 Despite its modesty, designing a house for a specific client is, probably, the most demanding and fascinating challenge for an architect.
One of the objects of this job, which went on for 5 years, was to design 2 similar houses for 2 brothers, avoiding simple repetition and symmetry. The other one was to opt for an architecture simultaneously contemporary, related to vernacular and which carried out the strict (… and we think that excessive) urban regulations from this small rural towns. Finally, the project would be built by the small local company run by these brothers, so some of the solutions were both new and stimulating. 
From the beginning, the project was understood as an only house, as an only entity in which, seen from outside, you could hardly appreciate 2 houses.
From outside, the construction does not reflect the addition of vertical stratums, but horizontal ones. A base or "sandwich" made of concrete and natural local stone supports a volume which is reminiscent of the primary, traditional and symbolic archetype of "the house", just as it is usually identified by the collective unconscious. The top volume is covered with smooth and white limestone from the local stone quarry.
The ground floor is opened to the garden by means of big floor-to-ceiling windows protected by porches, whereas the top volume is hollowed out in a more isolated way. This way, we generate an apparently contradictory, but we think that also valid, dichotomy: the rough material nature from the ground floor is combined with abstract windows, as well as with small flat roofs (we really like those comfortable American houses by Marcel Breuer), whereas the greater material cleanness from the top volume is combined with smaller windows and a modest tiled roof.
The spaces from the ground floor look at several enclosed points from the garden, thanks to several elements that, as a kind of telescopes, separate themselves from the rectangular geometry of the top volume, generating open porches, at the halfway from the inside and the outside. The two top floors look at the distant Ribera del Duero prairies. In the top floor, one of the houses is hollowed out to get a flat roof opened to the south.
Inside, a wooden staircase, together with walkways and high ceilings over the living room and the dining room, link several floors, promoting wealth of space and unity.
Second Prize XII Burgos Architecture Awards 2013-2015
Clasification
Dwelling

Location
Caleruega, Burgos, Spain
Date
2008-13 

Client

Private
Area
625 m2 built
Architect
Enrique Jerez
Collaborators
Koldo Fdez. Gaztelu
Building engineer
Domingo del Cura
Constructor

Construcciones Cumabe SL
 Structure
Rubiera Burgos
Álvaro Hernando
Equipment
Richana
Photographer
Javier Bravo