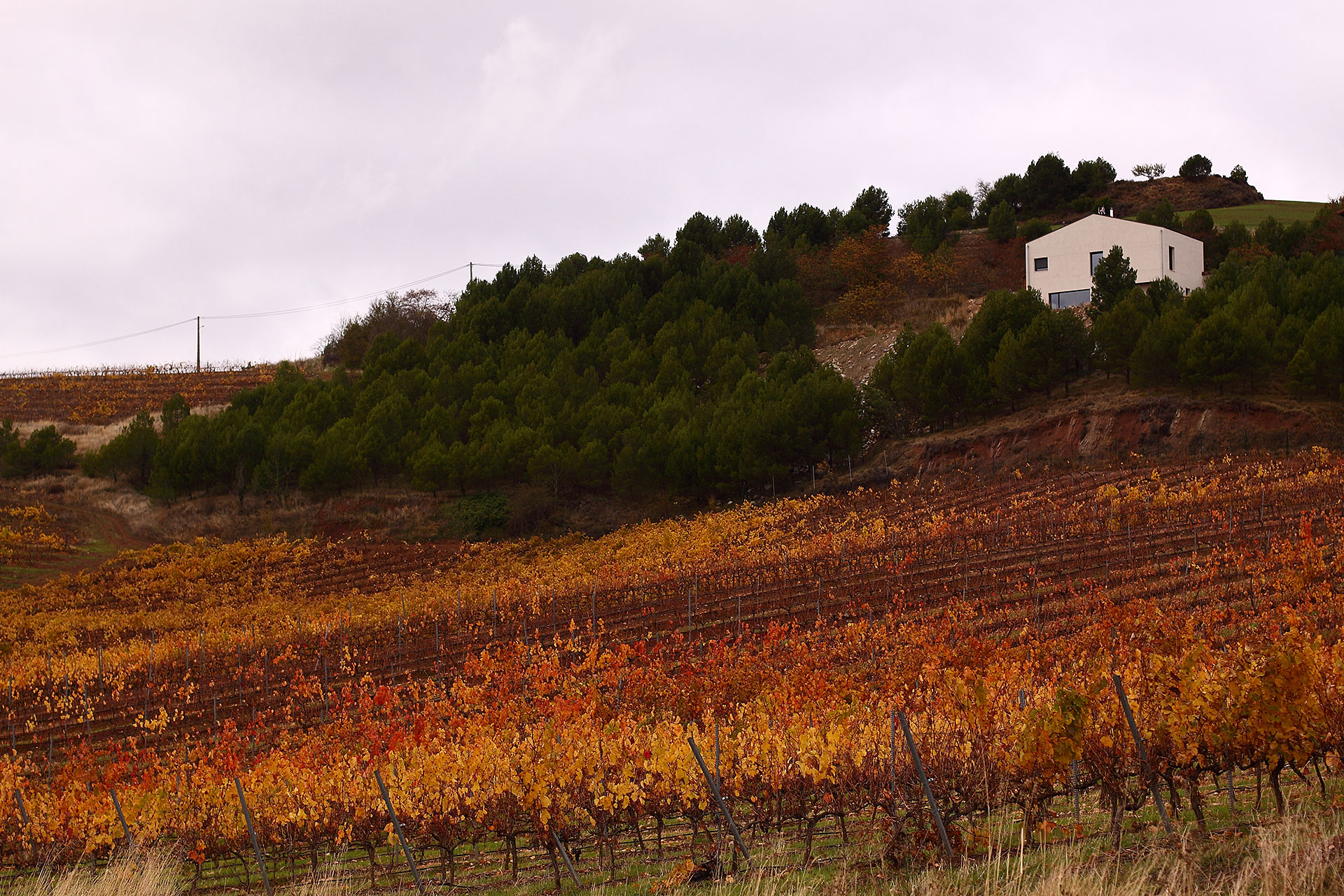 This house is located in Añorbe, a little village in Navarre, near Pamplona. The area is surrounded by a green landscape with an excellent view of Nekeas vineyards and Navarre Canal. The house was projected, respecting the strict urban regulations, as a simple, clear, compact volume that fits the steep topography.
To Calle Mayor, in the west side, the project seems like a single-storey house with a big hollow covered by wood which joins pedestrian and vehicular accesses. The fence in the south is conceived as a continuity of the tiled roof.
To the private area, in the east side, the house appears as a two-storey house that looks at the landscape and the powerful nature.
When you get into the house from Calle Mayor, you find out that the access hall, in the upper floor, has an excellent view of the vineyard, thanks to a big window that appears over the living room. In the ground floor, at the same level than the private garden, you can see the spectacular landscape that surrounds you, thanks to the big windows in the façade oriented to the vineyards and the canal.
Two courtyards, enclosed by prefabricated, reinforced, concrete walls, are the house's "arms". The façades' composition is simple, except for the big hollow in the access and another one in the ground floor, which works as a "stone bench" and a "woodshed". In this project, both contemporary and vernacular/popular principles live together in a harmonious way.
Finalist COAVN Architecture Awards 2013

Classification
Dwelling
Location
Añorbe, Navarra, Spain
(42.654848, -1.717545)
Date 
2008-11 
Client 
Private 
Area
223 m2 built
Architects
 Enrique Jerez
 Koldo Fdez. Gaztelu
 Building engineers
 Luis Javier Valencia
 Yvonne Aparicio
Constructor 

Construcciones Echarte
Structure 
Rubiera Burgos (Roberto Ortega)
Carpentry 
Arce Carpintería 
Furniture

La Cabina Muebles (Carl Hansen & Son) 
Photographer
Koldo Fdez. Gaztelu