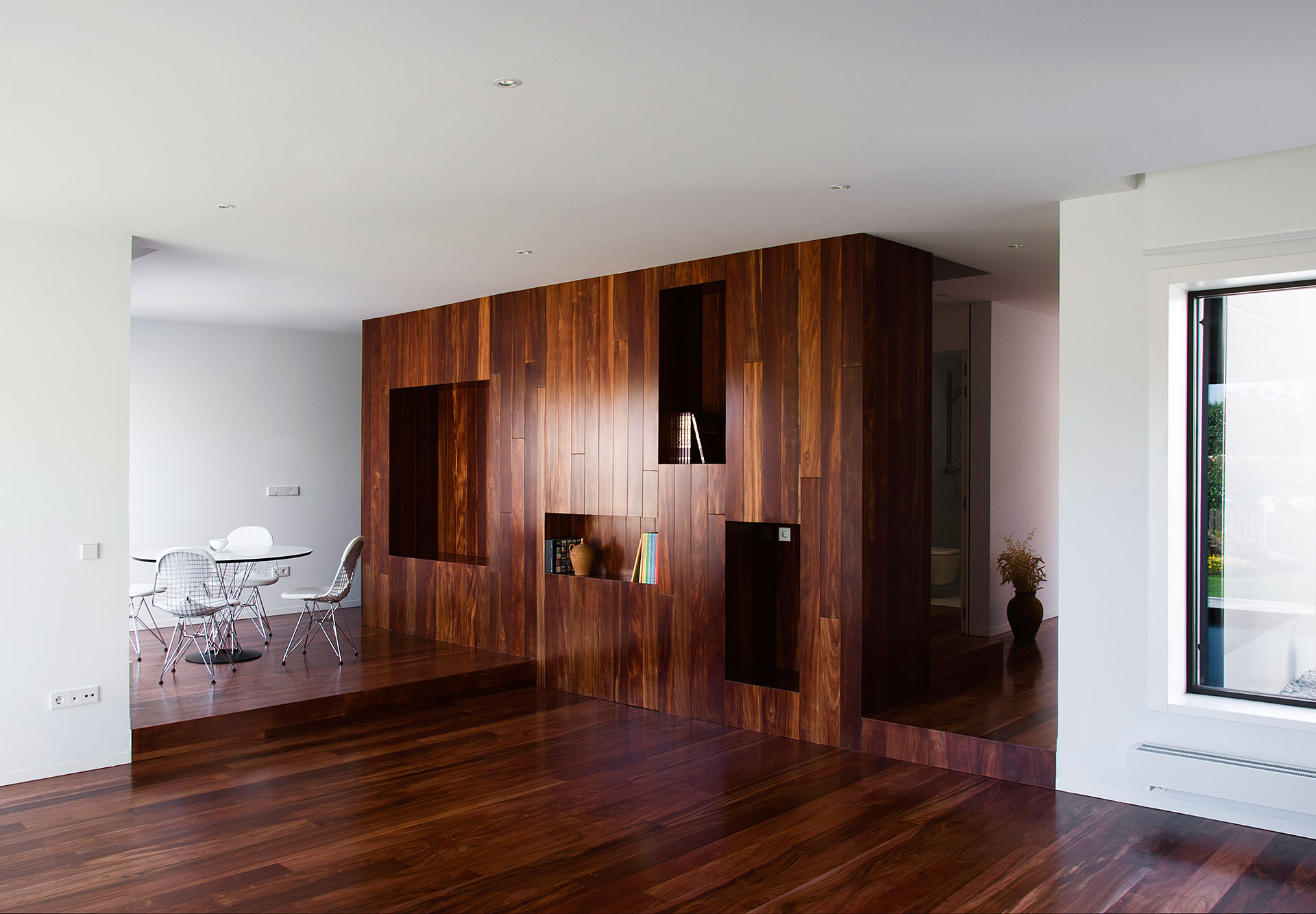 "We think that, in our production, restrictions are useful to exercise our liberty; restrictions are opportunities to show the work's potentialities. This is a very attractive thing: to take a virtue from a trouble".
(Antonio Cruz & Antonio Ortiz, Arch.)
This house is located at a district promoted in the 1940's by Obra Sindical del Hogar (OSH). Most of the houses had two floors, in a modest vernacular architecture with white façades, stoned bases, little windows and tiled roofs. They have private back gardens, once used like kitchen gardens by their owners, emigrants from the countryside to the city.
During these 70 years many new houses have been constructed in the district, some of them not according with the originals. Nowadays the urban structure stands, but many original houses have disappeared.
Today the district is surrounded by the city. It appears like a united group of popular architecture in the middle of the city.
The project wants to join popular and contemporary architecture, looking for a present answer but respecting tradition and setting.
The house is conceived as a volume vertically and horizontally displaced from a central and sculptural nucleus that connects the house from the basement floor to the roof. This nucleus, made in kurupay wood, is simultaneously furniture, stairs, equipments space and chimney. Outside, it is seen as a sculptural and unitary chimney.
 There are two little courtyards, to which the house opens. One of them connects with the ground floor and the other one with the basement floor. These courtyards create diagonal sights and continuity between the inside and the outside of the house. One of these gardens, with a Japanese character, illuminates the basement floor.
The outside of the house reminds of popular architecture. The two façades to the front street are exactly the same as the original from the 1940's, with a more abstract character: white covering, white stoned bases, little windows and tiled roof. Façades to the back garden are covered by white stone. The façades corresponding with the two displaced planes are covered with dark aluminium sheets, forming a contrast with the dominant white.
The house has little windows to the front street (on the north side) and big windows to the back garden (on the south side). The main bedroom shows at nature in the back garden, protecting a little terrace below. This is a space for resting or reading while you enjoy nature. At night the ceiling, made in perforated metal sheet, illuminates the terrace.
Both internal colours are shown outside. A white shell welcomes a dark nucleus that connects all the spaces from the basement floor to the roof.
Second Prize X Burgos Architecture Awards 2009-2010
Classification
Dwelling

Location

Burgos, Spain
Date
2005-09 

Client

Private
Area
290 m2 built

Architect
Enrique Jerez
Building engineer
Jose Ramón López
Constructor

Trazas y Construcciones SL 
Structure 
Rubiera Burgos (Roberto Ortega)
Carpentry 
DDM
Kitchen
Hernando Cocina & Baño
Equipment
Richana
Lighting
Lledó
Photographer
Javier Bravo