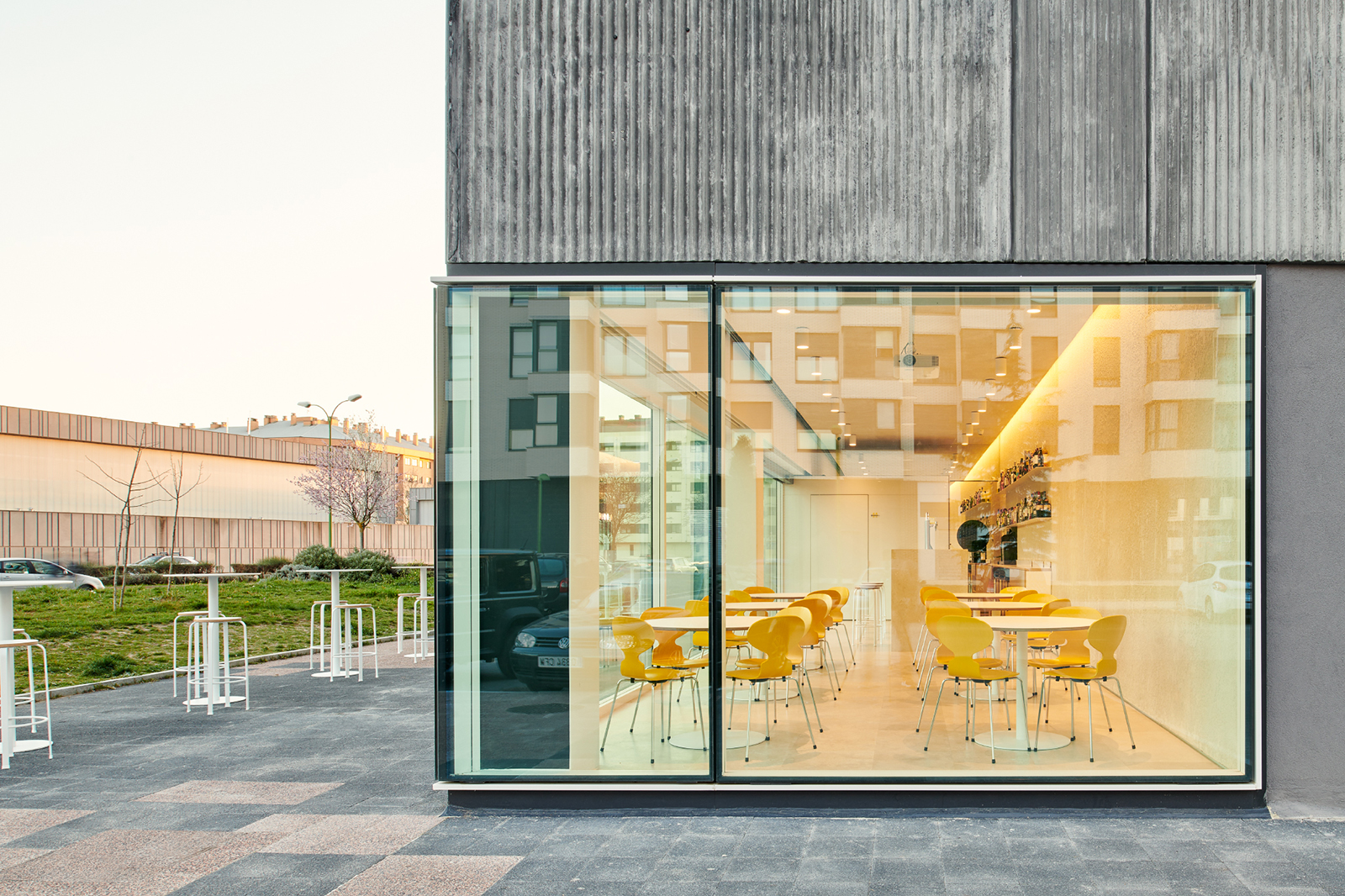 The project occupies the corner of a big and recently built housing building, and tries to serve the large and young population from this area of the city. With a clear vocation of being visible, this small space takes advantage of its location in a corner and its materiality, to stand out in the building and the neighbourhood that accommodate it.
Firstly, the corner is broken by a glass façade that shows the bar and tables space to the exterior. Secondly, the interior is conceived as a clean stage with a white back, that generates a certain depth and extends to the terrace and the landscaped area located in the south. The latter works as a buffer for the traffic from Avenida de Castilla y León. The aforementioned strategies are different from the heavy materiality and the dark colour from the building that wraps our space.
The premises are L-shaped. The public area occupies the bigger wing and opens completely to the street by means of a transparent curtain wall, whose rhythm rules the space's order. The service area occupies the shorter wing and is hidden behind white glasses. This façade in white glass folds and continues in the interior generating a box that accommodates the toilets and other services, at the same time that organizes both areas of the bar (public/service). A backward reflecting plan over this box multiplies the space's perception in its longitudinal direction.
The floor, the bar, the walls and the ceiling are made of white lime-filled materials. Campaspero limestone on the floor and the bar, continuous limestone mortar on the walls and the ceiling. This mono-materiality is complemented by a double textile layer of roller blinds (linen and opaque) that regulates the connection between the bar, the exterior and the sun depending on the weather and the needs, at the same time that provides a changing, close and friendly materiality. The furniture, made of birch plywood covered in white, also foster this tactile closeness with the users, while the yellow chairs provide a certain casual character, in agreement with the brand image. The service areas are solved with vinyl floors, ceramic walls and stainless steel furniture, that benefit its durability and cleanliness.
Second prize XV Burgos Architecture Awards 2021-2022
Classification
Interiors, restaurant
Location
Burgos, Spain
(42.359248, -3.670189)
Date
2021-22
Client
Óscar Alonso
Area
105 m2 built
Architects
Enrique Jerez Abajo
Rebeca Piedra Dueñas
Collaborators
–
Building engineer
–
Constructor

By professions
Curtain wall
Riventi
Glass
Cristalerías Crespo
Cladding
Mármoles del Nervión, Etebur
Equipment
Fritz Hansen, Ondarreta
Lighting
Simon
Graphic design
Nonaka Design
Photographer
Iñaki Bergera