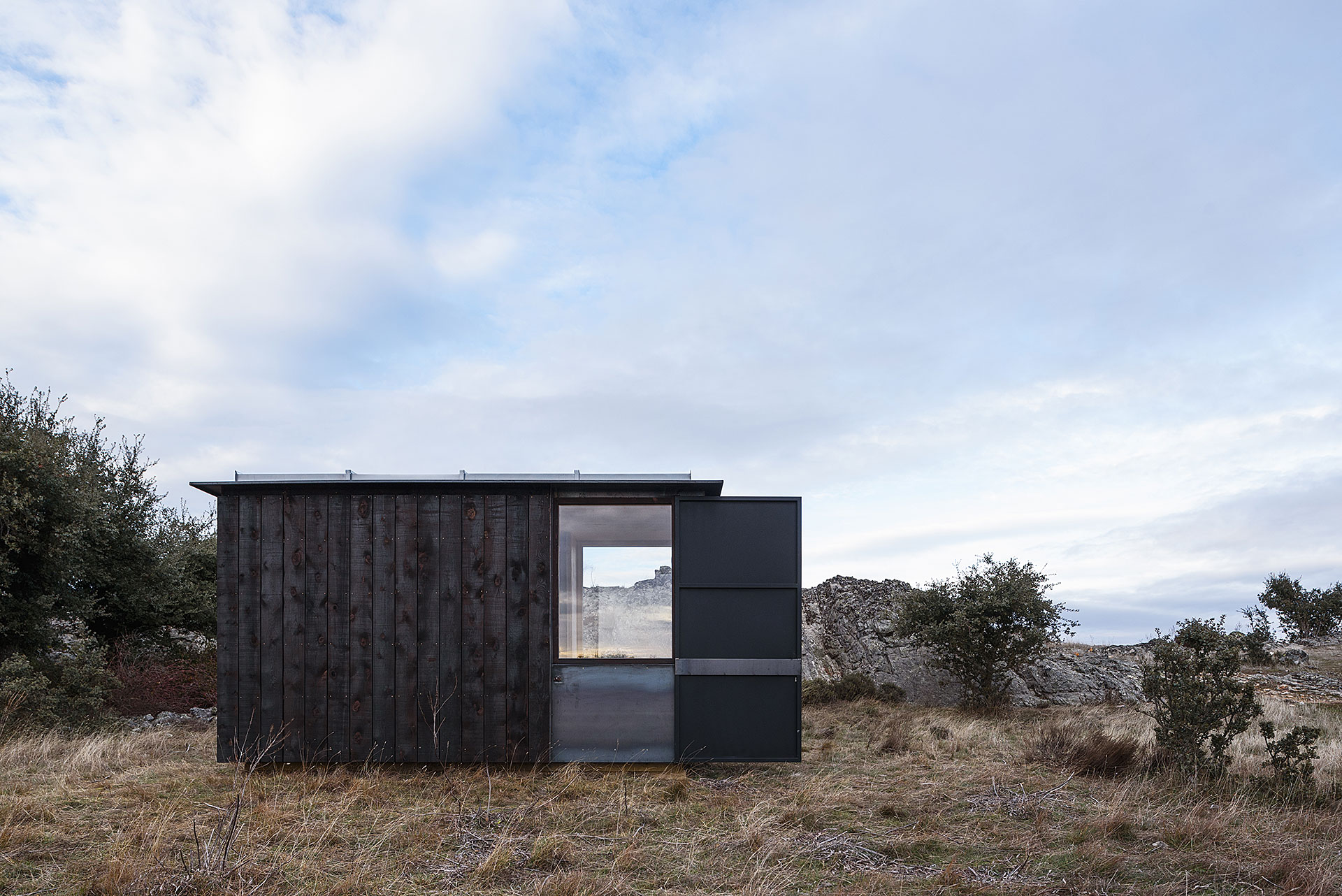 Surveillance pavilions for Castilla y León cultural heritage
Castilla y León (Spain) is one of the regions with more cultural and natural heritage in the world, thanks to its history and its big area. Many of its Heritage of Cultural Interest (Bienes de Interés Cultural – BIC) are in natural and rural environments. Therefore, they need vigilance, as well as attention for their visitors. Lately, the Regional Government of Castilla y León is becoming aware of the need to replace the current stalls located next to these BIC, with the aim of dignify them according to those monuments and places.
These 2 pavilions are a pilot programme which could be easily exportable to other BIC in the same region. The first one is located next to the Visigothic hermitage in Quintanilla de las Viñas (Burgos), one of the few buildings of its kind existing in the Iberian Peninsula, and which was designated as a National Monument in 1929. The second one is located at the archeological site in Arrabalde (Zamora), a place which in the past was a pre-roman hill-fort, designated as a BIC in 2006. When we revisited the Zamora Museum, a building by Tuñón and Mansilla that we admire so much, we discovered to our surprise that among its more valuable exhibits it contains the "Arrabalde's Treasure", for which the architects expressly designed a showcase, that is simultaneously a jewel case, inside the big jewel case that is the building itself.
The pavilions could be defined as a wooden box slightly elevated from the floor and placed under a horizontal steel plane. They are very compact to reduce their presence and increase their efficiency, and they protect the guards from the inclemency of the weather, whereas they make possible a visual connection with the exterior landscape. Like a piece of furniture, they are built just with wood and steel, in an industrialized and easily reproducible way. In this conditions, building in a factory with only 2 trades (carpenter and blacksmith) reduce the cost considerably, which has been one of our main targets. The pavilions are open or closed depending on the needs. When they are in their "latency period", they look like a totally closed and protected jewel case. They external building covering is made of vertical black timber, whereas in the inside you can see the cross-laminated timber structure, which provides a warmer sensation.
Economy, sustainability and reversibility have been 3 basic principles to design these small buildings, which try not to leave any trace on those places where they will be located. The foundations are superficial and made of timber. The timber from the façade is protected by Shou Sugi Ban, a traditional Japanese technique based on charring. The roof is made of steel, and its eaves protects the building from the rain and the sun. These are a low-energy buildings thanks to a great insulation made of timber fibres and the use of traditional, recyclable and clean energies: a small wood heater, a pedal washbasin and a dry and eco-friendly toilet that guarantees a closed cycle.
To summarize, we have looked for a natural, laconic and sensible intervention according to the needs. An essential, logic and sober intervention. Without anything accessory or whimsical. Eloquent, but not talkative. Respectful with the pre-existences, the landscape and the environment. Thanks to its small size and its lightness, the pavilions will we totally built in a factory and then carried to the site.
*Gaztelu Jerez Arquitectos did not directed the site management in Quintanilla de las Viñas.
Finalist XIV Spanish Architecture and Urbanism Biennial 2016-2017
Finalist COAVN Architecture Awards 2019 
Prize XIII Burgos Architecture Awards 2016-2018
Classification
Civic buildings, landscape
Location
Castilla y León, Spain
Visigothic hermitage in Quintanilla de las Viñas (Burgos)
Archeological site in Arrabalde (Zamora)
Date
2012-16
Client
Junta de Castilla y León
Consejería de Cultura y Turismo
Dirección General de Patrimonio Cultural
Area
12,32 m2 built
Enrique Jerez 
Koldo Fdez. Gaztelu
Collaborators

Catarina Isabel Faustino Mota 
Alicia Maraña Diez
alterMATERIA
Building engineer

Iván Poncelas Ramón
Constructor

Arte y Construcción SL
Structure

Arte y Construcción SL
Carpentry

Arte y Construcción SL
Equipment

Biolan, Fritz Hansen
Photographer

Javier Bravo
Koldo Fdez. Gaztelu