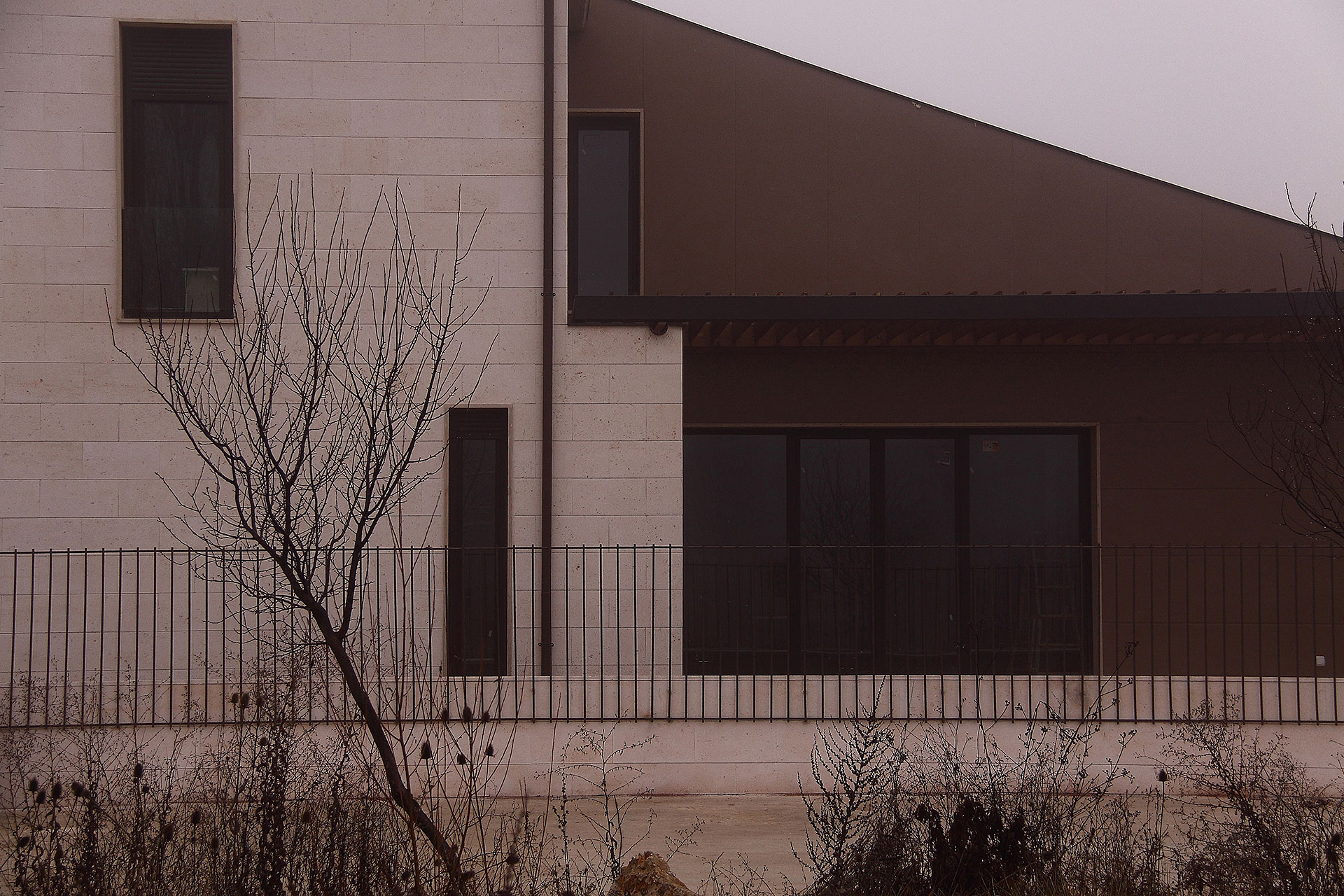 The house is located in Caleruega, a small village in Burgos, near Ribera del Duero vineyards. The project respects the strict urban regulations from this place.
The client is a couple that currently lives in the city and only uses the house for summertime or weekends, with the idea of living here when they retire.
The house is conceived as a simple volume covered by limestone, with L-plan and tiled roof. Its shape is the result of sculpting a virtual, prismatic volume by making 3 holes. These 3 holes produce the two porches and the tiled roof.
In these 3 points, the pale Hontoria limestone disappears, discovering darker brown colours. The slope of the roof creates different space scales, both inside and outside the house.
The L created in the south side surrounds an outside space linked with the living room. This living room is a two-storey space, and also the nucleus of the house, because it joins every space of it, even to the garden.
Most of the materials used in this house are white, pale brown (maple wood) and dark brown, related to the natural environment that surrounds the house. Water has been treated with special care, both in the water from the rain and in the drinking trough. This traditional element has been made in reinforced concrete, and brings a pleasant sound to the green garden. In this project, both contemporary and vernacular/popular principles live together in a harmonious way.
Classification
Dwelling
Location
Caleruega, Burgos, Spain
Date
2009-12
Client
Private
Area
194 m2 built
Architects
Enrique Jerez
Koldo Fdez. Gaztelu
Building engineer
Leticia Delgado
Constructor

Construcciones Caleruega SL
Structure
Rubiera Burgos (Roberto Ortega)
Photographers
Javier Bravo
Koldo Fdez. Gaztelu
Héctor Ayuso