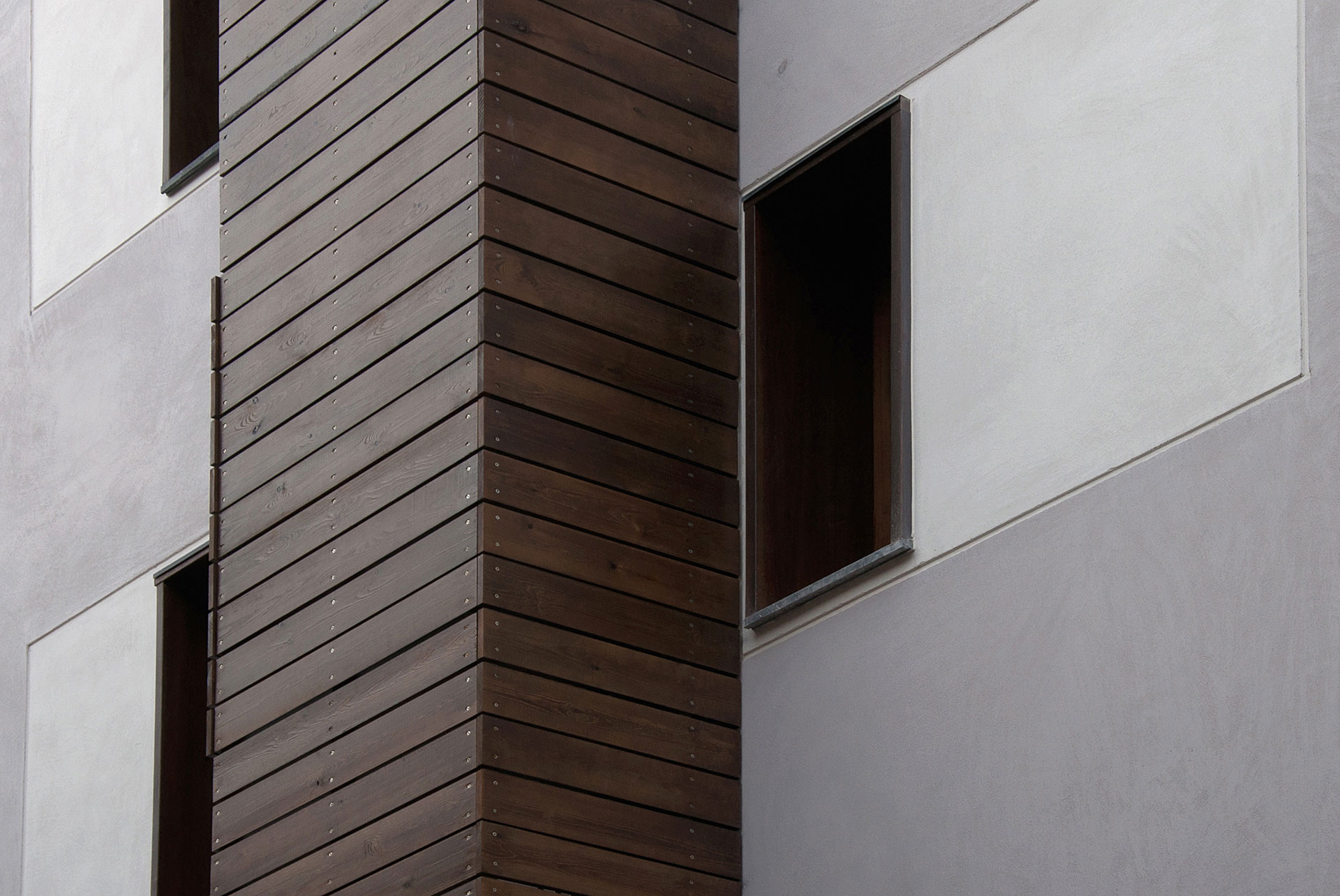 This building is located in the centre of Burgos, next to the Cathedral, Camino de Santiago and Centro de Arte Caja Burgos (CAB). It is a World Heritage area (UNESCO).
 It is a dwelling building from the 1960s that it is enclosed by several patios in its south, east and west sides.
The building has four floors over the main street (Valentín Palencia) and two more below, at the same level than the main patio. These two lower floors cannot be seen from the main street.
Due to the passing of time, the building had suffered many visible damages on its façade, roof and carpentry. Moreover, there were other damages related to habitability and comfort conditions (lack of thermal insulation, damp, old windows without insulation systems), and its installations were in a very bad shape.
We planned to insulate the whole building in order to improve comfort conditions and energy efficiency, earning money. Now, the façades have a new cladding made in grey-white lime and Deva stone, the building has a new wooden carpentry, new tiled roof and terrace, new heating system, new electricity system, new sanitation facilities, etc.
Some of the installations have been joined in a wooden box leaned against the east façade.
Finally, a flat roof with a terrace allows you to enjoy a great and unexpected view of the city, particularly of this old part of Burgos.
Classification
Restoration
Location
Burgos, Spain
(42.341891, -3.704481)
Date
2010-11
Client
Private
ARCH Ayuntamiento de Burgos
Area
432  m2 built

Estimate
134.000 €
Architects
Enrique Jerez
Koldo Fdez. Gaztelu
Building engineer
Leticia Delgado
Constructor

Hoyacam SL
Carpentry
Diamante
Photographer
Javier Bravo