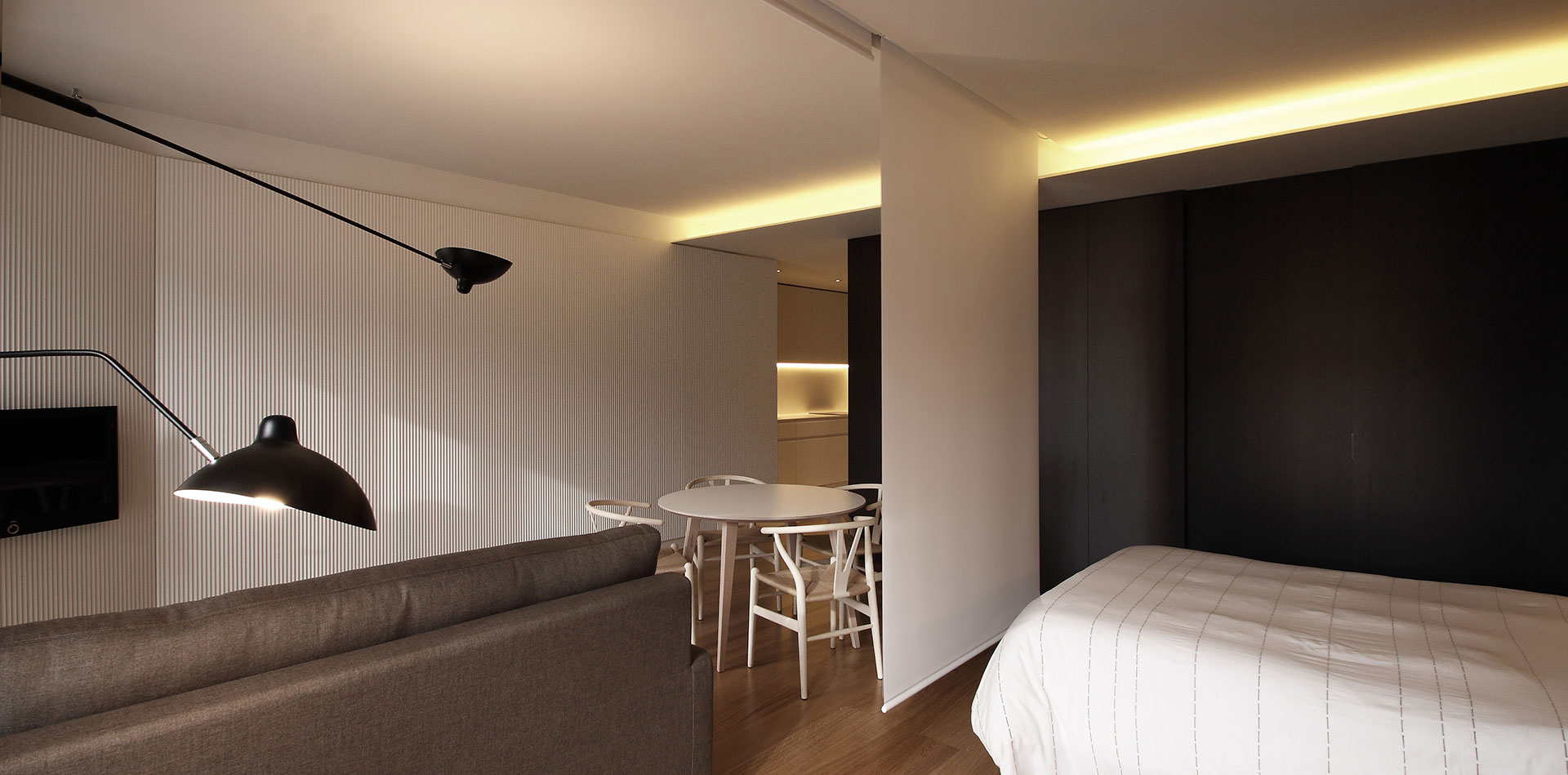 The project's purpose was the whole renovation and redesign of a small apartment, measuring 
50 m
2
, which is usually occupied by one person. 
The original dwelling was a consequence of the Spanish property speculation that took place during the 1990´s. The former arrangement had been designed with a great number of walls, due to the wrong concept of organizing a big and a small house in the same way.
Both the client and the architects considered that this excessive space division was not appropriate for such a small surface, so we decided to design a house as opened and permeable as possible.
In the same way as opened and flexible Japanese traditional houses were, every "servant space" (remembering Louis I. Kahn) is gathered in an only "big piece of furniture", which is hidden like a continuous panel, providing bathroom, kitchen, storage, wardrobe and different systems for the house.
The main materials are oak wood, smooth of grooved white wood panels, and black steel sheets. Two roller blinds, which allow to connect or disconnect, according to changing needs, cooking, dining, living, working and sleeping spaces, are the only dividing elements.
Classification
Interiors, dwelling

Location

San Sebastián, Spain

Date
2013-14 

Client

Private
Area
50 m2 built

Architects
Enrique Jerez
Koldo Fdez. Gaztelu
Collaborators
Building engineer: Yvonne Aparicio
Constructor

AISNORSA 
Carpentry 
Arce Carpintería
Kitchen
Arce Carpintería
Furniture
Carl Hansen & Son
Lighting
Viabizzuno, Artemide
Photographer
Koldo Fdez. Gaztelu